Discover more from I Always Wanted To
Nourishing stories, reflections, recipes, and recommendations from doing the things I always wanted to do along my human journey. Big things, little things, and (almost) every thing in between!
I always wanted to become closer to my mother.
It's not that we've ever been estranged or have nothing in common, but there'd always seemed to be a thin wall between us. Imagine a type of wall made with Maria Cookies; a wall that could crumble apart or melt into a sugary quicksand-like sludge with a big splash of hot coffee thrown at it.
The sweetest disaster. 
I picture Maria Cookies as that illusionary wall because one of my favorite tasty memories is of Mom's merienda ritual: a small stack of the sweet biscuits paired with a hot cup of instant decaf coffee with a splash of lactose-free milk, taken at her usual seat in front of the computer in the dining room. Watch the poetry video here.
Working. She was always working on something. 
I wonder if mom considers her snack time a routine or a ritual. What's the difference between a routine and a ritual anyway? Are routines rituals? Are rituals routines? Does the difference even matter? Oh, semantics.  
If the difference between the two is a matter of patterned, goal-oriented behavior that's measurable for most versus patterned behavior that connects to a deeper meaning and purpose, then I can't help but wonder why the act of brushing one's teeth can't be seen as both a requirement for one's oral health, as part of a daily hygiene routine, AND a practice of love and appreciation for oneself as a daily spiritual ritual. 
The same, I believe, is true for the act of eating. 
Eating, if privileged to do so daily, is the routine. Remembering and appreciating all the elements and beings that allow the gift of food to be made available for our consumption…is the ritual. A regular opportunity, that when embraced wholly, becomes an act of connecting with life within and around us in an intentional, ceremonial way. Even if you're just eating a bomb ass slice of pizza. 
Yeah, pizza can be spiritual, dude. 
I held this belief deep within but often blocked myself from truly understanding and incorporating it into my life. Then, when I hit rock bottom after 35 years on this Earth, I started learning the importance of developing and maintaining rituals. They became my way of reconnecting with myself and my loved ones. 
They became a lifeline. 
Rituals, contrary to how I assumed they needed to be preformed, do not require a complex ceremony with all the bells and whistles. Although, my current morning prayer and meditation ritual is initiated by three rings of a brass Tibetan bell passed down to me from my parents' leftover inventory.
For a few years before mom and dad sold our family home in Jackson Heights, Queens and moved back to the Philippines and Thailand, we operated a small family business selling Thai handicrafts in street fairs and festivals all over NYC. Every weekend, we'd load up the van, set up our vendor spot, hydrate, opened our hearts, turned on our charm, and entertained people from all walks of life. 
This was our weekend ritual.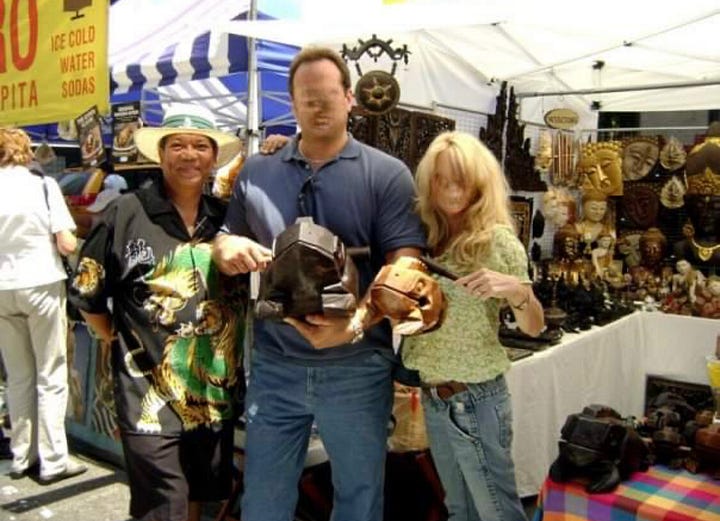 Sometimes when I feel weak, lazy, or fearful, I remember all the grit, tenacity, and audacity my folks nurtured in me, so I could have the fucking balls to hustle the way they have always hustled. 
Those traits were crucial in my own survival when they had to go back home to Asia. Those traits helped me build the courage to make my dreams a reality. 
That hustle and fire got me to join forces with my partner, Leo, to create our small video production company called Just Eat Life, developed, produced, and starred in original food, travel, and lifestyle programming for publishers and media platforms, hosted a cooking/crafting TV show on Tastemade called Just Jen, and so much more. 
I wanted to do everything and I wanted to do it fast.  
Every aligned and unaligned business decision was made with my parents in mind. Saying yes or no to an opportunity depended on how much closer the results could afford me a chance of bringing mom and dad back home to New York for good.
To become closer, in any capacity, was my north star. 
Mom was often my remote consultant and consoler during many challenging moments in my career. Just as in childhood, she would let me vent and cry for a very short moment and then firmly encouraged me to stop sobbing immediately and just breathe. 
I learned that mom doesn't really allow herself to cry when she needs an emotional release (dad and I are more of the chronic weepers in the family). I see this as her strength and weakness. Just as letting myself cry is my strength and weakness.
This keeps her eyes to the skies, but it also closes off her heart in ways she doesn't always feel and breaks down bridges that I know she would still love herself and others to travel through. 
A truth that might be preventing her lion heart from becoming even braver. 
In my attempts to be curious and courageous like mom, I ended up doing the opposite and severed the most important bridge to my heart—the connection to myself. 
Like mom, I was obsessed with work. I thought it was the only real solution to every problem I had. So, every routine I had in my daily schedule was done with work as the priority in mind. 
Brush my teeth well and fast, so I can get to set on time and have a nice smile for the camera. 
Eat shitty food, so I can save the production budget for the important ingredients on camera.
Have half-assed "quality" time with friends and family, so I can conserve my energy to be on camera. 
I've often experience feelings of regret thinking about all the opportunities I missed or could have created to become closer to mom. All the time spent strategizing and worrying and tiring over work, instead of paying attention to my connection with my loved ones, all because I was running away from myself and I didn't even know it. 
One example of this was when Leo and I were hired to develop, shoot, and edit 50 food videos in less than two weeks. When thinking of the best help we could hire for assistance, the only two people who came to mind—who had the same level of grit that we had—were the women who instilled the grit in us in the first place: our moms. With a big enough budget to fly out mom, she immediately said yes and she was back in Queens just like that. We worked about 20 hours a day to meet the deadline, so I didn't set aside any much time to hang with mom. 
I felt like shit. 
Not too long after that gig, Leo and I ended up moving to our current location in the Lower Hudson Valley. I was scared to leave Queens, as equally as I was desperate to leave the place where I was born and raised. Without mom and dad there, my roots, my foundation felt anything but secure, but I gave myself a chance to be free to grow out my branches.
Whenever you move to a new home, you must go talk to the tree outside your home and pray—please bless and protect us.
That was one of the first things dad taught me when we moved into our first ever house; the same one they sold later on because they couldn't afford to retire in America. I didn't feel any connection with that tree on our sidewalk, but just knowing the joy my parents felt doing their spiritual rituals was joy enough for me. What I didn't know at the time was how important this practice would become in saving my life. 
When Leo and I moved into our new home, I felt compelled to do dad's tree blessing ritual with the glorious maple in the backyard.
"Uh, hiii! My name is Jen. Thank you for sharing your home with us. We will take care of you. Thank you for taking care of us. Sorry in advance for all the dog pee." 
Unlike that first time I spoke to a tree with dad, I experienced a brief spark of a connection. I felt a tiny sensation throughout my hands, arms, feet, legs, and just below my chest. I remember pausing in confusion, which then turned into smiling with curiosity. 
A few more years passed and just before the pandemic, I started becoming more aware of my discomfort and disconnection with myself. I also distanced myself from my family—I didn't want them to worry about me. Several phone calls a week turned into one or two calls a month. 
I stopped asking mom for advice. My Maria Cookie wall grew thicker. 
I fell so deep into the rabbit hole of productivity videos, surface-level self-development books and podcasts, and spiritual materialism, and I became even more depressed. I placed so much emphasis on the external as the source of all my problems AND solutions. In the hopes of finding a way out, I buried myself even deeper. Deeper into where, I didn't know. I did, however, dip so far down into darkness that I encountered light—my inner fire. 
All I needed was another log to help it burn a little brighter. I needed mom. 
Out of desperation, I decided to open my heart to her. Throughout my relationship with mom, I never really allowed myself to be completely honest about my life, because I feared that she would see me as weak or incapable. But one day, after a particularly dark time, I asked her if she could just stay on the phone with me while I cried. I told her why and she softly said "Oh, my baby, of course you can. I'm your mother. I am always here for you." 
She didn't speak a word until I could call my own breath back again. 
Then, she reminded me to ground.
Dad wasn't the only one who dropped tree wisdom on me. Several years ago, mom suggested I walk barefoot in the grass by the maple tree first thing in the morning, while the dew still slicked each blade. She remembered her friend Kitty taking her to a park in Flushing for morning Qi Gong and, upon walking up to the meeting area, she saw people in the group hugging trees barefoot and stared in curiosity. 
"Why are they doing that?" 
"They are absorbing energy from the trees and the ground," said Kitty. 
I started hanging out with the maple tree in the backyard. It was so fucking weird at first. I got in my head a lot thinking about what Leo, his family, my friends, or the neighbors might think of me, so the first few sessions looked and felt like awkward sex. 
"Am I touching you alright?" "Was it good for you?" 
The more I made it a routine, the less awkward it started to feel. 
I nicknamed the tree "Mother" as a way to help restore my relationship with nature (because we, too, are nature) and to feel more rooted to my birth mother. Almost immediately, I started having longer and deeper weekly calls with mom. I allowed myself to break down that cookie wall and let myself talk to her the way I've always wanted to. Real talk. We now have heart-to-hearts on our pasts, life, philosophy, spirituality, and nature.
She's reminding me of things I've forgotten or blinded myself too much to see. I'm lighting torches in her heart she forgot could still light up.
By spending time with Mother and mom, I am learning how to feel rooted in myself. 
Mornings with Mother Maple
Alongside learning and healing with Mother, new rituals were crafted and being practiced consistently for the first time ever in my life.
Sitting silently by her roots, while leaning my back against her trunk helped me deepen my meditation and practice access to a peace of mind. Walking barefoot around her and moving through morning yoga and breath work strengthened my love and appreciation for my body. Laying beneath her trunk, as I admire the beauty and reach of her branches above, encouraged me to grow a more stable foundation of self, while keeping my eyes, just like mom, to the skies. I can feel Mother and mom's nurturing charge through the Earth on my spine, encouraging me to continue feeding my spirit. 
Troubleshooting for the spirit. Sometimes you just gotta unplug it and plug it back in again. 
It's been 4 years since I've seen with my mom in person, and for so long I've blamed our distance on external reasons that all were just shadow puppets being orchestrated by my deeply rooted avoidances and fears. Now that they're being invited to come out of the dark and into the light, I'm learning to see and cultivate a better relationship with my being.
Instead of trying to be better, I'm working on becoming whole. 
It's not a piece of cake, but there are moments in this journey to wholeness that are too damn delicious not to share. Like this moment mom shared of enjoying her merienda ritual in her home in the Philippines. 
If you made it this far, thank you! Please note that future posts will most likely not be this lengthy. Since it's my inaugural post, I, of course, had to do the most. Enjoy this recipe I developed last year inspired by mom's curiosity and determination, in and out of the kitchen.
Spicy Longganisa and Kale Noodsta (Noodle Pasta)
 For the longganisa:
1 lb ground pork

6 garlic cloves, minced or crushed

1 tablespoon soy sauce

1 tablespoon cane vinegar

1 ½ tablespoons brown sugar

1 ½ teaspoons kosher salt

½ teaspoon ground black pepper

1 teaspoon cornstarch

1/2 teaspoon paprika powder

1/2 teaspoon cayenne powder
   For the pasta:
1 lb dried spaghetti 

½ cup shallot, thinly sliced

¼ cup cane vinegar

6 garlic cloves, thinly sliced

3 cups kale, stems discarded and leaves chopped

⅓ cup grated parmesan, plus more for serving

Salt to taste

cracked black pepper for serving

¼ cup olive oil 
   Optional crispy egg:
One egg per serving 

Oil for the pan
In a bowl, combine all longganisa ingredients until well combined. Cover and set aside.
In a small bowl, toss sliced shallots in cane vinegar and set aside.
Starting with a large cold skillet, add all of the olive oil and sliced garlic. Turn the heat on to medium and cook the garlic until golden brown, about 2 minutes. Scoop out the garlic chips and set aside for later.
In a pot of salted boiling water, cook spaghetti, while occasionally stirring, until almost al dente, about 10 minutes. Reserve at least 2 cups of pasta cooking water.
Meanwhile, bring the heat of the skillet up to medium-high and add the longganisa and cook, while breaking it up with a spoon. Once the longganisa is browned, stir in the marinated shallot and vinegar, kale, and salt and pepper to taste. Cook until wilted, about 2 minutes.
Increase the heat to high and use tongs to transfer the pasta, along with 1 cup of pasta water. Then quickly stir and toss the noodles around until the liquid in the skillet emulsifies into a slightly thickened sauce, which coats the noodles well. You can keep adding more pasta water, while tossing, if you would like more sauce. Turn off the heat, and then add parmesan and toss well.
Heat a drizzle of oil in a pan on medium-high heat. Working with one egg at a time, gently crack the egg into the hot oil and spoon some oil over the edges. Cook until the edges are crispy and the yolk is still runny. Use a spatula to set the crispy eggs aside.
I Always Wanted To is a reader-supported publication. To receive new posts and support my work, please consider becoming a free or paid subscriber. I appreciate you to the moon and beyond!