Discover more from I Always Wanted To
Nourishing stories, reflections, recipes, and recommendations from doing the things I always wanted to do along my human journey. Big things, little things, and (almost) every thing in between!
I always wanted to float in the ocean
the practice of letting go + an obligatory beach sandwich (recipe)
I always wanted to float in the Ocean. Kind of like a laid-back sea otter (literally) that decided to be careless for once, and ditched their kelp forest anchor to let the joy of their fluffy, buoyant nature feel louder than their sense of panic. I know that otters wrap themselves up in swaying twists of seaweed to keep them safe from drifting away while resting, but I can't help but wonder if there's a curious little otter out there testing their waters of courage right now—an otter without bother.
Unlike an otter, I'm not a strong swimmer. Shit, I even sometimes choke on shower water (don't ask me). But, I have long fantasized about what it would feel like to be fully relaxed in her moving body of water, so trusting of an element of Earth that I respect, admire, need, and fear—so deeply—all at once.
The Ocean has been one of my oldest teachers. She entertains my curiosities about Earth's mysteries, humbles me when I think I have total control, and calls me to her when nothing else makes sense but to submit to the lessons heard in the waves meeting the sand.
The Ocean is one of my most venerated Schools of Life. Because of her, I was given a taste of my mortality when I was saved from almost drowning (twice in two different seas). I witnessed reciprocity when abundant gifts, in the form of anchovies caught by another family on the beach, were honored and then shared with mine. I absorbed healing doses of negative ions from the salty air and shore that fed transformation from pain. I listened to the ripples and surges each wave orchestra sang, as I learned to synchronize my breaths, reminding me of the warmth of my own wholeness against the cool, briny breeze.
I think one of the most important lessons of all is the one about letting go.
It's pretty much up there with that other significant one about not giving a seagull some of my sandwich, because, then, twenty more will show up and me and my fellow beach-goers will end up squawked at and sprinkled with bird shit. I've seen that chaos go down far too many times for me to repeat that big no-no.
The more I live through, the more I see that, much like the human form, the act of letting go is less of a singularly occurring event and more of an evolving, dynamic process of life.
Letting go is a practice, and it's something I choose to study and exercise quite often—an unwilling participant turned devoted student. One morning, after the discomfort in my body and mind reached a level I never want to bear again, I finally allowed myself to feel the weight of the pain I'd been ignoring for far too long. I needed to face what was hiding behind that suffering, to embrace and integrate what was really calling for my attention and love.
I chose to drop the belief that if I didn't hold on to everything, all the good along with all the bad, I would lose everything anyway. Relief from release. I wanted it to happen quickly, but these things don't usually go all in one big drop.
Sometimes it's a sprinkle. Sometimes it's a splash.
Day by day, I let go and reclaim some more space. From there, I start seeing my possibilities more expansively than before, doing things that are more in calibration with my soul than before. So, freeing myself from the familiar burdens of old stories and emotions, that try to cling onto anything or anyone, is a part of my daily disciplines.
Studying. Meditating. Breathing. Journaling. Creating. Cooking. Cleaning.
These all provide little nuggets of training that I carry with me, throughout the days, throughout every situation. I'm learning to live with a lighter heart. Dragging the heaviness, in all its forms, never gave me access to my peace the way practicing to live here, in the present, is doing more and more for me each day.
One of the greatest gifts of being in the present moment is hearing what Mother Nature wants us to know, to remember. Observing how she behaves and responds to different conditions teaches me powerful, creative, and effective approaches that help me navigate my own challenges.
I recently experienced another round of feeling generally floaty and disjointed from my ambitions and plans, after my partner,
, and I celebrated a forward-moving life transition—it was clear that I had turn inward to observe myself first:
Am I afraid of things going well because I'm worried it will all be for nothing?
That's the same old story…let it go. What will be will be. Continue forward with heart.
I became aware that I was still doing that silly old thing where I get in my own damn way, by denying myself the joy of my family's evolutionary shifts and the pivotal steps I could be making toward my own goals. Empowerment was fed. My fire started roaring again. I turned my focus to more grounding energies that dance with flowing air and water, to balance my fiery motivations—the Ocean called me to observe her wisdom once again.
I made sure to soak in the beach plenty of times this summer in Connecticut, while Leo and I were dog sitting for a couple of weeks for dear friends. On top of being blessed with lots of fluffy puppy time, we were also happy to be closer to one of our beloved beaches. It's where we watched the first sunset of 2023, after a much needed ocean prayer ritual during a very stormy time of our lives. It's also the place where we spread the last of our good boy Oreo's ashes several months later on a full moon.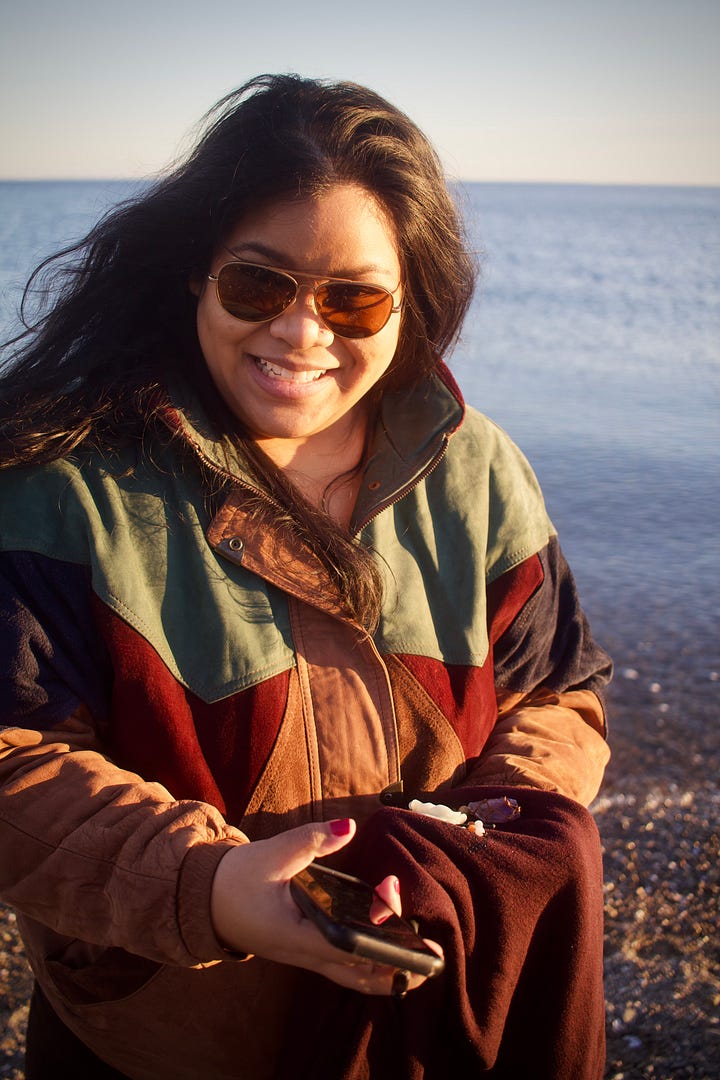 The usual beach routine: first, find a spot that feels just right and set up our temporary sand nest (blankies and such), have some sort of communicated agreement with any approaching seagulls to leave our food alone, eat half of our beach sandwiches, then, read or paint, another "chat" with the gulls to make sure they won't rummage through our bags the moment we walk away, take a short dip to feel the cold water and offer my gratitude prayer, and back to our sand nest to meditate, dry off, and eat the other half of our sandwiches.
The sky during the last few trips reflected my mind at the time—cloudy. My brown skin got enough caramelizing sessions in this summer, so I didn't mind a little less sun strength. It was time to take my practice to the water, to learn how to float in moving water, to face up and look up at the clouds in the sky, instead of letting them build a storm in my mind.
"You can't tense up your body like that. You're too rigid. Just let yourself loose," said Leo.
Okay, c'mon, Jen. You got this.
I pulled some long locks of seaweed floating nearby toward me.
Like this. Be chill, be light.
I made several attempts. I choked on saltwater. My foot kept searching for sand, just in case. Then, one thought became louder than the rest:
People must think you look like a floating whale who's about to become a beached whale.
I knew the voices behind that thought. I gave myself radical love. I let it go.
I floated.
I did it again and again and again. Steadying my breath and feeling a little more ease each time.
I'm alive. In this body. An expression of you. Thank you, Ocean. Thank you, Sky. I'm alive.
Freedom.
It turns out that, for me, letting go is practiced the same way while in the water as it is on land:
notice my physical body and the space around me

shift my focus to breathing deeply and mindfully to gently become aware of the present moment

notice any resistance, any tension being experienced mentally and/or physically

give them breathing room, give them love, give myself a moment, or several, to unfasten from those thoughts, those feelings

continue breathing, continue focusing

let the lightness carry me through to the next moments
Over time, I have learned that my body has wired protection with tension, unaware that this self-perceived act of defiance is more an act of fear. As the water tested my resistance, my breaths became sharp. Then, the surrender started feeling more like a nurturing embrace, and a space to rest in uncertainty, to see Surrender as the gift that it truly is.
Another gift: beach sandwiches
What qualifies as a beach sandwich to me? Any kind of sandwich I'm in the mood for that, simply, is eaten on a beach.
They hit…just right.
For me, there's a familiar sensation, a delicious satisfaction that breathes out of moments spent by the Ocean with myself, my kin, our good eats, other humans with their kin and their good eats. So, it doesn't make a difference to me what kind of sandwich makes the best beach sandwich. As long as it nourishes me, my kin, and the moment, then the beach sandwich has fulfilled its purpose, just as making it helps me fulfill mine.
I'm aware that the fall equinox is approaching this weekend, but just in case you're still able to hang at a warm beach and want a sandwich, specifically one without meats, cheese, or mayo because you plan on letting it all hang out for a while under the sun, then my Veggie Love Sandwich is a beautiful answer for that calling.
This sandwich is very dear to my heart. This recipe was first conceived when Leo and I started dating, which was about a year before we started making internet food videos together. He'd been hearing so much about my passion for food culture and asked to someday have a chance to taste my cooking. Of course, that day happened to be the day I barely had any ingredients I normally would, at the time, consider "worthy" enough to cook an "impressive" meal for someone. On that day, he came over and asked if we could get something to eat because he was a little hungry, so I suggested I prepare something real nice instead. Then, I went to take inventory of my kitchen—and that's when the panic set it.
Shit. I guess I could make a sandwich?
But I don't have any meat. NOT EVEN CHEESE! I can't give this sandwich-loving dude a veggie sandwich!
But a man I was falling in love with was hungry, and I didn't want him to think I was bullshitting about my joy of cooking, so I took a deep breath and decided to go Food Network Chopped mode (haha foreshadowing—cut to me becoming a Chopped Champion some years later) and make the best sandwich I could with what I had.
I let go. He loved it. I'm sure seagulls would love it, too.
I turned lemons into delicious lemonade.
Okay, there aren't any lemons in this recipe, but you can totally swap the red wine vinegar with freshly squeezed lemon juice. And you can watch how it's made, learn more about the love behind the love sandwich, and how Leo makes his quickie chai by watching this video from our last Getaway trip in 2021. Full recipe below!
P.S. You'll get to see sweet boy Oreo relaxing on what ended up being his last, beautiful trip away with us ♥️
Veggie Love Sandwich Ingredients:
1 roasted red bell pepper, skin, seeds, stem removed and cut into strips
4 slices of a medium-large eggplant
4 slices red onion
4 cloves garlic
4-6 sliced cremini mushrooms (or any mushroom you fancy at the moment)
Baguette or ciabatta sliced for two sandwiches
oil for the pan or grill
For the dressing:
chopped fresh or dried oregano to taste
2 tablespoons olive oil
1 tablespoon red wine vinegar
salt and pepper to taste
STEPS:
In a pan heated on medium, heat some oil and cook eggplant slices until browned and softened. Remove from the pan, set aside, add more oil and cook the onion, garlic, and mushroom slices until charred. Brush bread slices with oil and grill or toast until browned. In a bowl, combine all dressing ingredients, and then cover and toss the cooked veggies into the bowl.
Assemble and enjoy!
A playlist to help you be like water
12 Hours of Sea Otter Sleeping in Monterey Bay
need I need to say more?
The Ocean ritual that inspired mine
I highly recommend this wonderful book by Felicia Cocotzin Ruiz, an amazing curandera (healer), author, indigenous foods activist, and natural foods chef. This ritual and many other teachings can be enjoyed in this beautiful book—check it out in a bookstore near you!
I Always Wanted To is a reader-supported publication. To receive new posts and support my work, consider becoming a free or paid subscriber.