Discover more from I Always Wanted To
Nourishing stories, reflections, recipes, and recommendations from doing the things I always wanted to do along my human journey. Big things, little things, and (almost) every thing in between!
Life as Medicine
9 growing gains this season
I know we just got started, but what if we took a slow, deep breath together?
For real, though. It's not corny as shit studded with corn kernels silly, if you consider the fact that your body is automatically breathing for you right now.
What if you haven't taken a deep breath all day?
What if you can't remember the last time you took a deep breath?
What if someone else is reading through this exact same sentence you're reading right now at the exact same time?
Wouldn't it be awesome if we shared that moment of connection right here, right now?
Every second we breath, our bodies work the best they can to perform so many amazing functions throughout our systems. The fact that roughly 2 million red blood cells are destroyed and created every second is reason enough for me to honor that powerful electricity literally flowing through our bodies with one deliciously slow, deep breath in and out.
Okay, ready?
Look down at your belly and place a hand over it.
That's where I like to picture my breath moving in and out from. It helps me go deeper (that's what he said) with the intention of gently expanding and contracting my rib cage. As if to allow an ease of flow for a single soft ribbon of light to travel in through the nostrils, trachea, lungs, and then slide right back out the same way it came (he said that too).
To allow a breath cycle its full potential is to greatly nourish oneself in one of the most present forms of love that truly exists.
Are you READY ready now?
Okay, in 3, 2, 1
b r e a t h e i n . . .
and
b r e a t h e o ut . . .
Smile and whisper "I'm alive."
If you're experiencing any heaviness and the feeling of gratitude for the life flowing through your veins is present, then, my friend, you're experiencing a human moment. But don't forget that grief is also in need of as much warmth as you can give.
I see you, I hold you
we live here in this ever-moving ocean
without drowning, my heart feels yours.
let these become anchors, the seeds of dreams we have dropped
the sand always shifts, so some will rot and some will root in stable ground
their fruits will nourish us
notice the ways in which you are being fed now
Can we meet at the estuaries to listen to the ripples?
they tell us stories of how the rivers of tears
eventually abandon their form to the sea
What if we learn to surrender like they do?
to a moment of stillness to hear what we need to know
What is there to know?
How to always come back home
to you
now
no matter what
clarity, compassion, and creativity
will steer the way forward
for you
for all
♥️
We can be lovingly mindful of our energy and choose to move with that energy in ways that are directed with unconditional love. Over time we have placed too many conditions on this powerful energy. These conditions have lead us to believe in the illusion of separateness and disconnection from ourselves and each other. This has grown over the heart and minds of humans like a cement shield, holding us from seeing the love, no matter how buried deep within, inside of each an every one of us.
This is why having the safety and space to dream, create, and live has become more and more difficult for individuals to believe they have access to anymore. Moving with this light in our hearts allows us to move, individually and collectively, and do what is in our strength and power to help other hearts continuing feeding their own light.
There are infinite ways to be of service. You know what's right for you. Your body will be one of the first to let you know. When feeling stuck or hopeless, give yourself the space and chance to flow into next steps.
Remember to breathe through it all.
---
PAID SUBSCRIBER UPDATE:
After spending some time considering how I can be of better service through my online platforms, I have decided to no longer put paywalls on any content moving forward. I believe everyone should be allowed public access to any form of knowledge that can help, as they learn how to navigate their own journey.
I will continue sharing my stories and suggestions with you more frequently, as expression has been incredible medicine for me in my life. So, if you are already a paying subscriber, you can either choose to cancel or continue your subscription, but please know that I will not be offering any exclusive content moving forward. However, your incredibly generous support is so deeply appreciated and helps me on my journey of being an artist and healing arts practitioner. There are many teachers in life that have helped me become more aware of my power to heal from within, and it is my fire and purpose to continue empowering others find tangible ways to tap into that power here and now.
Thank you for being you…to the moon and beyond 🫶🏽
---
1. What I learned
How to make a cover of Mustafa's Name of God.
This song has been such beautiful medicine for me, especially these days. His beautiful art, through words, music, and filmmaking, inspired me to take inventory of all the beings and practices that have been healing medicine for my whole being these past several months.
Thank you, Mustafa, for expressing healing through your healing ♥️
2. What I created 
A tiny clay bowl for tiny things.
I love manipulating goopy, squidgy, mushy, pliable things with my hands. It's been a favorite activity of mine since childhood. Queens sidewalk mud, Play-Doh, knockoff Play-Doh, 25-cent toy machine putty in the shape of a peanut, my glorious, secret experiment clay made with mom's body powders and lotions, kneaded erasers, plaster, bread and cookie dough—all good kinds of goops over the years that satisfied my urge to see visions come to life in an almost instant.
The art form of pottery is one I have dipped my curious toes into during different phases of my life. Only dipping, never really submerging. I have made all these excuses for why I, now as an adult, "can't" make pottery: it's an expensive craft, I don't have enough room, I have more important things to learn, my dog died (just kidding but also…not kidding).
That all changed when I told myself new stories to follow.
Let's see what and how many things I can make with this one $10 block of air-dry clay! I can make small, hand-built pieces! Playing with my hands helps me play with my soul!
Now I have a tiny collection of tiny practice pieces that bring me big joy. I'd love to share them with you one day soon, especially my vagina candlestick holder that failed to hold any candlestick but is still pretty awesome.
3. What helped me heal
My relationship with my menstrual cycle has evolved quite a bit over the years. A quiet shift toward healing my disconnection with my womb began in early 2020. Then, my body became frustrated with my lack of commitment and gave a much louder cry for help during the last quarter of 2022. It forced me to move that relationship way further up on my list of priorities. Now, it's one of the most intimate connections I have.
There are several different teachers that have been helping me on this journey. Scientists, doctors, healers, artists, and sacred wisdom holders of all kinds. I'll tell a story with more details in the future, but I want to share this beautiful resource with you now, in case you've been called to heal your womb too. The insight is not just for those with physical wombs! I believe everyone has a womb space that could be given a little (or a lot) of TLC.
Womb Healing is for the benefit of all!
Queen Afua's wisdom came through to me from this conversation with Devi Brown on this podcast. Her message was empowering and the methods for living a sacred life, many of which I've attempted to incorporate without much consistency over the years, are now being practiced on the daily. Her book, Sacred Woman: A Guide to Healing the Feminine Body, Mind, and Spirit, is one of the most informationally dense books I've come across in a long time. Such an expansive joy to read and dive deep into!
I've been learning how to become more aware of energy hemorrhages, releasing the unconsciously suppressed pain, trauma, and shame from the womb, listen to ancestral calls, and recognize the force of my womb as the seat of my power.
This process has been devastating, delicious, and divine. I just had one of the chillest, healthiest cycles that I have not experienced since I was a TEENAGER. I can even say that it was better than when I was a teenager! I'm excited about my next lessons, and I look forward to learning and sharing more about what my moon and womb have to teach me along the way.
4. What challenged me
A 21-day detox.
It's been a year since I made the commitment, to myself and my loved ones, to become a better student of life. In order to do so, I needed to make several bold shifts. One of them was learning how to love and find value in my body's vitality. Contrary to younger Jen, my motivations this time around were not born out of a fear of my physicalities, but for a yearning to become stronger and free to flow in ways my body has been asking me to for a long time now.
About 10 months into the journey, after learning and experimenting with different nourishment modalities and compiling the obvious data from our individual bodies and minds, Leo and I did a 21-day detox that tested every part of my being. So many challenges, frustrations, discoveries, and, most importantly, transformations. It was a powerful way to connect with myself more deeply. The process also beautifully cleared stagnant energy in and around my womb, which I believe greatly contributed to the evolution of my menstrual cycle.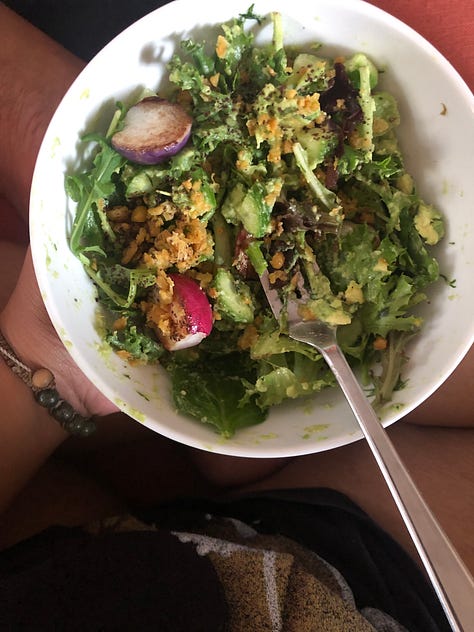 Thanks to falling in love with holistic approaches and being persistent with my routines, my body is showing me, little by little every day, how much I'm actually capable of experiencing with this temple of mine. The lightness I often feel now does not only stem from my body's decision to release over 50 pounds of physical weight during this gradual strengthening process; it is intrinsically coming from the powerful connection I'm building with my mind, body, and spirit. I've been praying for this, the true essence of becoming free, for a long time.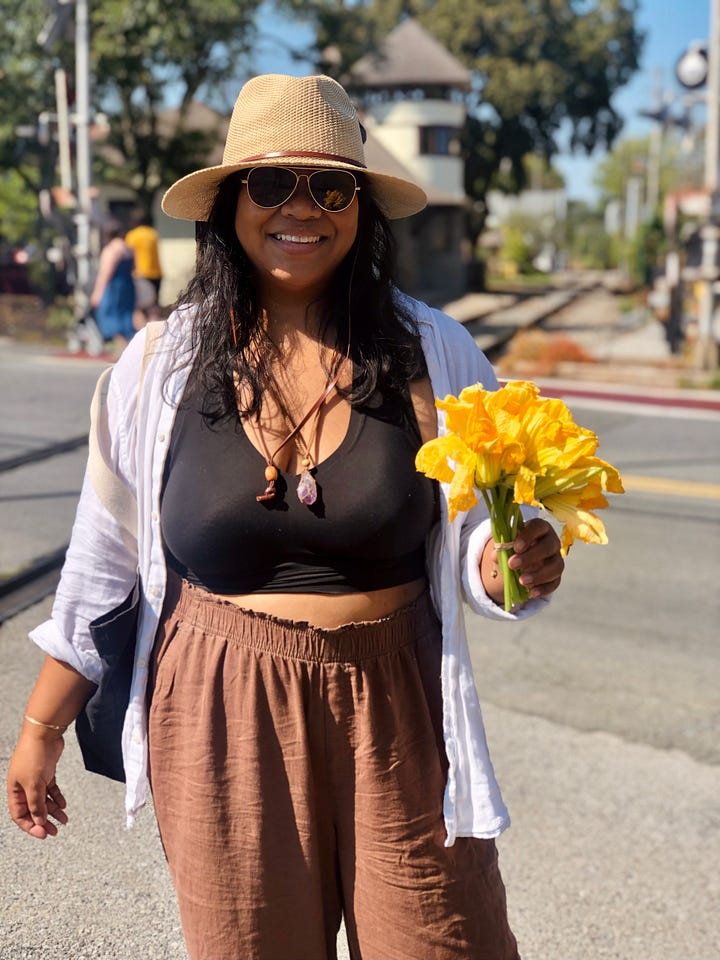 The intention of detoxing was to give our bodies some much needed time to rest and regenerate. Over time, we overloaded our systems with incredible amounts of toxins from our environment, food, and life's challenges. We felt called to examine all aspects of our lives and how we could integrate these facets of our beings more wholly for ourselves and for the benefit of others. From the ingredients we consume, the products we use daily, and the environments we choose to live in and interact with to the words we say to ourselves and behaviors we wish to transform, I learned a great deal about what I actually need versus what I became dependent on and wanted to release from myself.
5. What made me curious
I learned that I'm a Cancer rising and not a Gemini rising.
That blew my mind! All the times I've felt weird about certain readings not resonating with me was simply because I have been inputting the wrong birth time into my charts. Oops! So much connection through clarity because of this discovery has been redirecting me closer to myself and understanding the doubts that need to be embraced for release.
My magnificent being of a friend Breanne recently gave me one of the most nourishing readings I've ever experienced. Here is just a portion of this beautiful and motivating conversation that I'm sharing because I really do believe this message has a lil' something for everyone.
And check out Breanne's awesome Elemental Equinox course!! I've enjoyed it so much and I hope it helps you too.
6. What brought me joy
Throwing a yard sale with my family.
Since the 21-day detox was realized holistically, we decided it was also necessary to detox items from our physical spaces alongside our body and minds. The goal was to clear out any attachments I consciously or unconsciously had by reducing what no longer brings me joy on the path I am traveling on now. This wasn't my first KonMari Method rodeo, but this time around I had the whole gang (mind, body, and spirit) working together. The process felt similar to the way I interpreted a metaphor Julie Cameron once gave in an interview: it's like taking a broom and poking it into the corners of your life and you bring all the shit into the center of the room where you can see everything and can finally do something about it.
We didn't set any expectations for how many people we thought would come or how much cash we could make back from our original investments. We set out with the intention of having a fun time releasing what no longer served us. What made it super fun was having our niece and nephew join the crew for the day. My nephew sold 25-cent custom drawings and $1 apple cider.
While setting up the yard sale, my nephew loudly proclaimed that that day was the best day of his life because he would be selling stuff for the first time. We later learned how much of a hustler he is! Each neighbor that stopped by was greeted by his hilarious tactics, which surprisingly worked almost 100% of the time. When we closed the sale for the day, he asked if we could just give the rest away for free, which we planned on doing from the start.
That kid makes me a very proud Tita Jen.
7. What inspired me
Mom's love for her community.
Shampoo ginger flowers! It's wild everywhere! It's just over there growing in people's properties and they have no idea how valuable they are!
Mom excitedly explained to me on one of our 8am/8pm calls that she started noticing how many people in her barangay (village in Tagalog) were unaware of the gifts growing right outside their homes. After speaking with several community members, she learned that most were conditioned to believe that these medicinal and culinary plants, like shampoo ginger, galangal, and so many others, were useful, profitable, and abundant, as many were misinformed about the true value of their local vegetation and the potential to use and further cultivate their land to supply bigger city markets. Mom decided to share plant knowledge with those seeking to establish food sovereignty and pathways out of poverty as a way to help reconnect her community with each other and the Mother land.
Mother's love keeps healing.
8. What made me laugh
Baked in a fuck
9. What I ate
Harana Market forever.
This place, these humans have become a beautiful space for my soul's connection. There are many stories I will be sharing soon about Harana that journey beyond their warm, heart-hugging Filipino homestyle food and colorful and joyful pantry groceries in the Hudson Valley and explore how Chris and Eva have fired up so many hearts in community.
For now, I want to share that Leo and I have been working on our first documentary film about community, and Harana has been powerful voice in our story. We've been following along since the beginning and are now capturing their transition from their first location in Woodstock to a bigger and better spot in Accord, NY! Learn more about it here.
If you're reading this the day this is posted, come on by to celebrate their last day at the Wittenberg shop!
---
Take care of yourself and each other.
Be well, be nourished ♥️