Discover more from I Always Wanted To
Nourishing stories, reflections, recipes, and recommendations from doing the things I always wanted to do along my human journey. Big things, little things, and (almost) every thing in between!
🎙
audio voice over is available for your listening convenience by scrolling to the bottom
1. What I created
About 5 months ago, I somehow got my lazy, undisciplined ass to make it a daily habit (ritual, really) to write and doodle something right after my morning meditation. My intention was to heal my artist heart by creating for the sake of creating.
The process I'm practicing:
During the last few moments of meditation, take some deeeeep breaths, ask for a message, and "listen" for an answer

Gently open eyes, notebook, and remove the pen cap

Take another deep breath and just start writing

Sketch something around the writing

DON'T OVERTHINK IT

Close the notebook and walk away
It's a creative exercise that has been helping me become more aware of the judgement, doubt, impatience, anger, and fear that all try to have a hot mess orgy in my mind every time I try creating ANYTHING.
Sometimes I like it. Sometimes it makes me smile. Sometimes it inspires another idea. Sometimes I want to vomit all over it.
and one of my besties, Vinny, have entertained my morning art/poetry musings and encouraged me to share some of my favorites with you. Featured above is a watercolor test-run of a piece I'm working on that originally came from one of my morning musings
(see below)
.
2. What I ate
This juicy papaya from our local bodega. I also scooped out and dried up the seeds in the oven and transferred them to a pepper grinder to occasionally sprinkle onto meals.
I know social media has made it seem like a ridiculous, medically misguided "hack" but papaya, for its whole plant parts, have been known to have multiple uses and benefits for quite some time. How much time? I don't fucking know. But my dream for the future of plant medicine is very much aligned with Robin Wall Kimmerer's where ancient and indigenous traditional knowledge lives on and guides Western science and medicine, as she beautifully explained here:
"Traditional knowledge, instead of excluding emotion and spirit, invites it in to say that there are these other ways of knowing that can help to guide us…what would this symbiosis look like between scientific tools and indigenous philosophy and wisdom. But creating right relationship between those ways of knowing is hugely difficult because we live, almost, in an intellectual monoculture, which has rendered traditional knowledge invisible and marginalized that knowledge." 
3. What made me laugh
's recent short story

Nancy

. I won't spoil it, but, after reading it, I now can't stop saying "Fuck a duck" everywhere I go.

Zarna Garg's mother-in-law stalking her on TikTok

Dad's usual family group chat contributions in the form of this photo app funny
4. What I learned
There's an extremely isolated island off the coast of Nova Scotia where small, wild horses live undisturbed. I was in awe watching those majestic beauties run free across the remote sand dunes on A World of Calm. It was narrated by Kate Winslet (my favorite actor ever), so the storytelling was just as soothing for me as the visuals were.
These dudes have just been out there living their best lives, with all that glorious hair tousling, since the late 1700s. Their primary source of food is a variety of grass called marram, which greatly thrives due to the abundance of nutrient-rich shit gifted by the largest colony of grey seals in the world.
Fuck yeah, interdependence!
5. What helped me heal
Leo and I went to our local state park lake beach to celebrate 14 years of our wild journey together. We both kept receiving signs that we needed some good ol' water recharging this week, and, instead of going to our favorite beach, we agreed it was about time we get over our shared fear of lake water.
I blame our overconsumption of lake-related horrors movies in our lifetimes.
I submerged my entire body in lake water for the first time ever in my life. It was scary, exhilarating, and deeply nourishing. I felt like every part of my being was being cradled in unconditional love, and Peace planted another seed in my heart.
I also wore my wedding dress (see photo below) because it's just too damn beautiful to keep stored up for the sake of memory preservation. This art piece must breathe
out in the world making new memories by getting lived in and dirtied up by sand and a sloppy beach sandwich.
6. What challenged me
This newsletter.
Since this is a new independent project for me, I noticed how much pressure I added to the creation process and how much that influenced my habitual "need" to do the most. It's one of the reasons why it took me 3 months to finally launch, since I first announced this in March.
So, I appreciate you letting me breathe out me. Just me. Your support makes my heart smile SO BIG.
7. What made me curious
When I got into bed the other night, there was a thunderstorm brewing and I felt compelled to meditate on the rumbling sensations and sounds. Flashes of lightning came through the window and illuminated our dark bedroom. Flash after flash, rumble after rumble, I wondered about the relationship between energetic shifts and weather.
Is there more to weather sensitivity than people's arthritis acting up?
I eventually fell asleep and woke up from a dream about a utopian world where beings on Mother Earth understood weather/climate conditions on a deeper, spiritual level and lived in perfect symbiosis with nature and technology. Diverse, vibrant, and peaceful cultures lived in reciprocity with one another and with the Earth. Imagine the worlds of Rivendell from LOTR, Avatar's Pandora, and Disney's Strange World but without all the violence and greed.
8. What inspired me
The resilience of this money tree.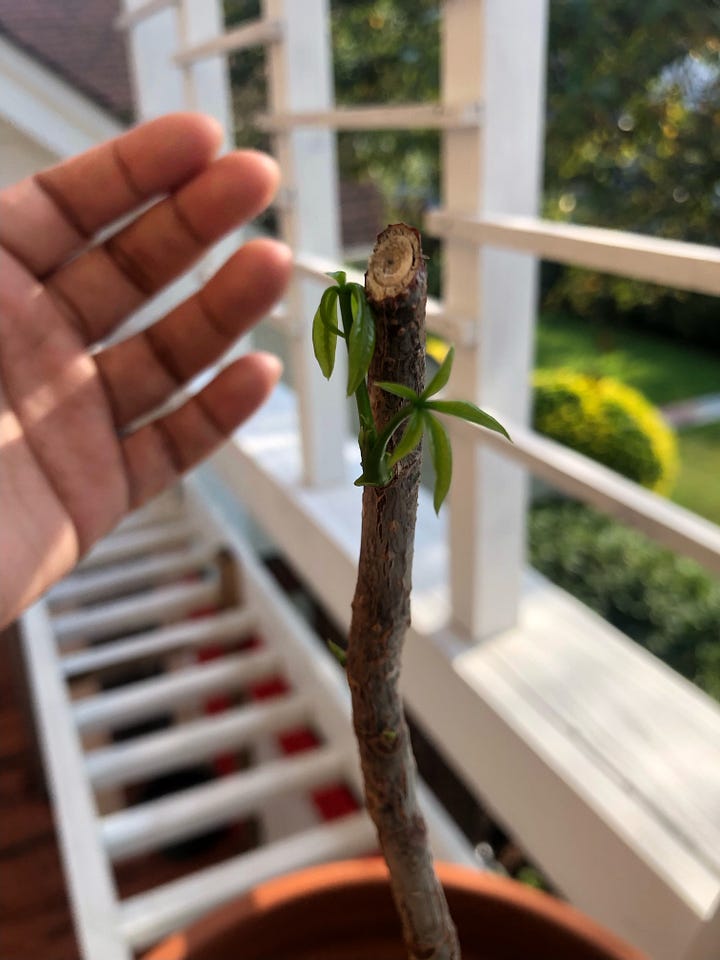 Lil' Mo has been a part of my life for 11 years. After 2 moves, too much sun, too little sun, too much water, too little water, and, most recently, being caught in the middle of chaos and breaking out of their pot, this resilient dude keeps proving that she will do whatever she can to make it out alive. Just when I thought this last disaster would be the end of her, she proved me wrong. Now, Lil' Mo's main stem is shooting out new leaves in her new home outside, and two of her clipped branches are slowly growing new roots–a welcome sign of hope for a stronger future.
9. What brought me joy
The Boy, the Mole, the Fox, and the Horse by Charlie Mackesy.
This book came to me as a surprise from my dear friend Christy. She had no idea I'd been wanting to read it, after I saw the trailer for the animated film version that warmed my heart and made me curious for more. The beautifully simplistic imagery and sincere messages on living this thing called life inspired so many emotions and ideas. My heart burst so many times. I left a few pages with some tear stains.
I loved it so much that I gifted a copy to my nephew for his 6th birthday. I explained to him that the author was also the illustrator and, midway through reading it together, he asked if we could take a pause so I could teach him how to draw a few things. My artist heart sang! We drew his first pineapple, eye, and box. He said he may want to make our own book one day too. I'm right there with him.
Christy, in case you're wondering if this book brought me joy, please know that it brought me way more than you know ♥️
Audio VO