Discover more from I Always Wanted To
Nourishing stories, reflections, recipes, and recommendations from doing the things I always wanted to do along my human journey. Big things, little things, and (almost) every thing in between!
🎙
audio voice over is available for your listening convenience by scrolling to the bottom
1. What I created
Mushroom spore prints! 
Our local woods were smelling rich with fungi love last week. It's been WET wet around here (thank you, healing rain), so many fruiting bodies popped up and surprised us during our forest walks. 
Here are just a few of the cuties we met (more on our mushroom adventures in a future post):
Last year, when we were growing our own mushrooms, I was learning how to make and preserve spore prints for future cultivation. I fell in love with the ghostly traces of genetics left by each species. They made such beautiful art that I placed them behind glass frames and now have them in our living room. I imagine these remnants as a sort of "see ya soon" love letter—one that I SO look forward to opening up and reading again later. For now, I'm enjoying learning how to ID shroomies in the wild and bringing some home to co-create art with them. 
2. What inspired me
The Bear – "Forks" – season 2, episode 7. 
Stories about the journey of a "fuck up" transforming their demons through personal triumph always get me. I see many parts of myself in these turbulent characters, so it's encouraging to see reminders that we're all, in different degrees, moving through one stage or another of The Fool's Journey. The lines between the limiting polarities of either being "good" or "bad" quickly dissolve when I witness a human becoming more aware of their path to wholeness, which, in my opinion, requires the biggest set of balls of all.  
Although it is inspiring, inspiration is nothing without action. Have you ever been inspired by something externally, or even internally, and felt an instant surge of energy, a fire, light you up only to be smothered into smoke and ashes trapping you in the same shadows you thought you could finally escape? 
I let myself get stuck in that false prison many times in my life, especially when I have feared the unknown. When I don't allow courage to be the motivator of my decisions, the other voices get to work putting out any gracious, illuminating fires. So, the smoke thickens and paths forward are once again lost to my vision. But when I decide to accept the fear and integrate that energy into lighting one up from within, I make moves and gear the fuck up for higher pathways. Like the kitchen sign in the episode says, "EVERY SECOND COUNTS."
This episode of The Bear was a reminder for me to take inspiration and action to create powerful combo hits in the game of life. 
3. What helped me heal
This song.
It's a beautiful Arabic cover of Rema's Calm Down. After hitting that repeat a few times, I had to learn what the English translation was, since it helped warm my heart deeply after a particularly anxious moment had passed on a drive last week. You can find the translation in his video's description or on CC, if you're curious.
Thank you, Rachid Aseyakhe ♥️
4. What made me curious
VIBES.
Breaking space news on a recent discovery came with evidence that the Universe is HUMMING, supporting Albert Einstein's theory that ripples in the fabric of our Universe are created as heavy objects move through space and time. I have to admit I was both excited and annoyed. My ego screamed, "UGH, DUH!" since I'm a believer in the Law of Vibration (hello, confirmation bias), but my heart also gets delighted anytime science and spiritually have a chance of complementing each other in humanity. 
I think when humans get curious together, for the purpose of expansion for the whole and not just a select few, beautiful shifts in perception occur and poetry can be seen and celebrated in everything around and within us. This news reminded me of one of my favorite books Einstein's Dreams, a collage of fictional stories about a metaphysical realm based on his Theory of Relativity. In one story, there's a fountain in the middle of a town where time moves more slowly the closer you are to the fountain. Lovers who want to stay locked in a tender kiss or a mother and her child who want to hold an embrace for almost forever make their way towards to middle, and people eager to heal from heartbreak stay further away to speed up time in their lives. 
The astronomer take that I appreciated the most was a quite poetic explanation by Adam Frank in The Atlantic: 
Every proton and neutron in every atom from the tip of your toes to the top of your head is shifting, shuttling, and vibrating in a collective purr within which the entire history of the universe is implicated. And if you put your hand down on a chair or table or anything else nearby, that object, too, is dancing that slow waltz.

All of a sudden, we know that we are humming in tune with the entire universe, that each of us contains the signature of everything that has ever been. It's all within us, around us, pushing us to and fro as we hurtle through the cosmos.
5. What I ate
I've eaten at least 10 sardine avocado toasts a year in the last 15 years. For someone who often has a hard time with commitment, this says a lot about my fondness for my go-to breakfast/lunch/snackie. It's simple, nourishing, and damn delicious. 
My standard toast assembly consists of any available bread (toasted), slices of ripe avocado, sardines, olive oil from the sardine can, freshly squeezed lemon juice, a micro pinch of salt, and cracked black pepper. 
I recently realized that, depending on my mood or circumstance at the moment, I tend to make these 5 slight variations:
crispy rice paper wrapper, instead of bread

lime or red wine vinegar, instead of lemon

smoked mackerel, instead of sardines

tiny rips of anchovies, instead of salt

no avocado, just sardines…in case the budget screams, "not this time, baby"
The other day I sprinkled flaked dulse (one of my favorite sources of iodine) and it made my semi-haphazardly assembled toast sing a briny ocean song I didn't know I needed. I highly recommend it.
and I also went to our local Chinese buffet and I got this fortune…
I'm not sure about that one, but I'm working on it. 
6. What I learned
How to make tomato water.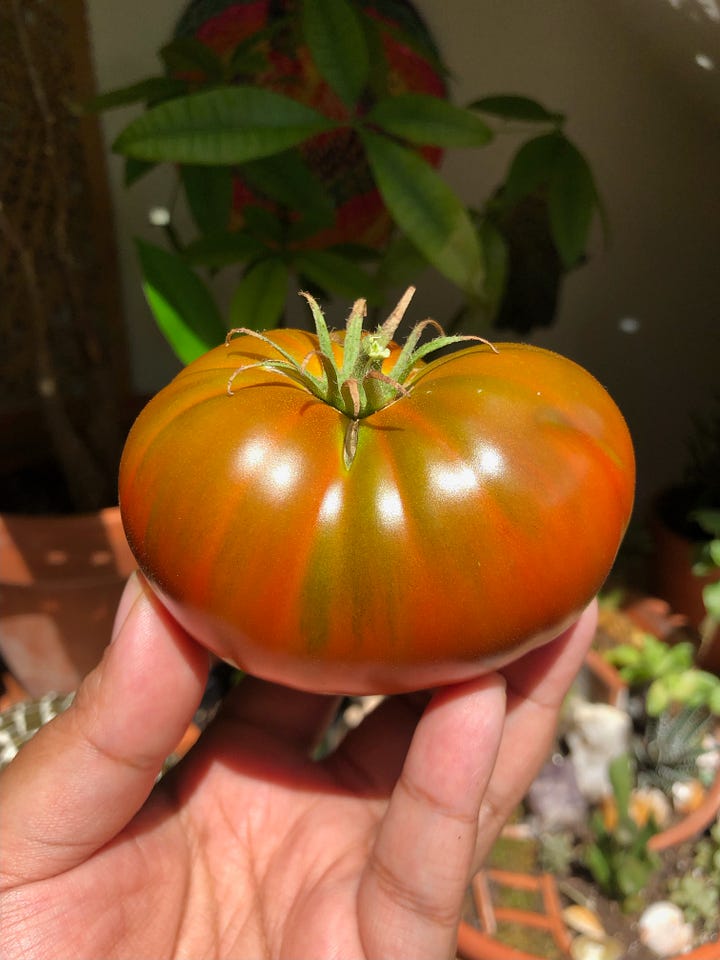 My kind, brilliant, and talented friend
shared a video on her "
In Season
" list of summertime yummies on
I want it in risotto, salad dressings, and in my bath tub so I can soak in it and be even more delicious than I already am. 
7. What I brought me joy
Mom and I did I first live together! On our journey of reconnecting with each other (you can read more about that story in this letter), we've decided to start collaborating on fun projects remotely, until we can hopefully work on projects together in person in the future. Until then, please enjoy this sweet time we had together doing finger and body tapping for connecting with our bodies. 
Watch the full video here on mom's IG!
8. What made me laugh
Once again, one of my father's creations: mom's face on someone else's body next to someone else's horse.
His love language is sending our family group chat funny images and videos created on apps. I used to be so confused about why he was spending so much time making them, until I realized that it's his way of keeping his mind active, especially since he's not having as much in-person stimulation with many people these past few years. 
I love him and his ridiculous memes so so much.
9. What challenged me
This screw.
Just when Leo and I were about to get in the car to drive up north to visit new lovely friends of ours, we saw that the tire pressure was low due to a screw puncture. I felt frustrated thinking about the amount of time it would take to bring the car to the shop, get it patched up, and make the hour-long drive to our friends, and how it could effect Leo's already jolly mood that morning–I wanted us to have a fun, chill drive. But after witnessing him stay calm, cool, and clear, I noticed how much I was the one letting anxious thoughts distract me from the true reality: there's no real problem here–not one bit. 
We've both been working on how we react to situations out of our control, so after a few deep breaths and taking note of our unnecessary frustration, we both focused on the idea that getting this small, quick repair done at our trusted mechanics shop is helping out a local small business, while we can get back on the road safely because of them. 
After our car was serviced, a young boy excitedly came out to hand me the screw and said, "I got your screw out. It's so tiny, so it won't cost much for the patch up." It turns out that he was hanging out in the shop for the summer and was learning how they run things. 
I love a local family business.