Discover more from I Always Wanted To
Nourishing stories, reflections, recipes, and recommendations from doing the things I always wanted to do along my human journey. Big things, little things, and (almost) every thing in between!
I ate that and left no crumbs
9 growing gains I had last week + first Q&A episode!
Welcome to the first Monthly Q&A + Collective Tarot Share episode!
This is a special feature for paid subscribers, but I'm sharing this episode with everyone to celebrate the kick off! 🚀 So, if you enjoy this and want to hear future episodes, become a paid subscriber and join the community today 🫶🏽
This month's collective spread – listen to the reading above!
1. What brought me joy
One year ago, Leo and I started occasionally dog sitting for friends and family for two reasons: 1) we miss having the kinship and unconditional love from a dog in our home and 2) it's a fun side gig! We've had the wonderful opportunity to care for Miss Buttercup since she was a fresh new pup on this Earth, so to host another Tita and Tio Summer Pup Camp this year, with our camp veteran corgi, and her bestie Theo, a super fresh Frenchie puppy, was just the spoonful of sweet dog lovin' medicine we needed for our spirits.
Here's a lil' drop for your own spirit, if you need it!
2. What I created
Cyanotype sun prints!
My sweet friend Angela (Buttercup's momma), gave me some to play around with, since she knows how much fun I have creating…anything! I was excited because I haven't made a cyanotype print in a long ass time.
Cyanotype is a cameraless photography technique that involves a simple photochemical process using light-sensitive iron salts. When a photo negative or 3D item is placed on the chemically treated paper, exposed to sunlight or any other source of ultraviolet light, and then rinsed in plain water to get rid of any unexposed iron salts, a vibrant blue print is created. It was used by some of the earliest photographers and botanical documenters in the 19th century, and it's also why a blueprint is called a blueprint!
As an old photography major in school, I fell in love with anything that could transfer images as a print, which might be another reason I enjoy making mushroom spore prints. Since I love creating art inspired by nature and, mostly, using nature in the art itself, I used some outdoor time spent with Buttercup and Theo in our backyard to test out a few prints.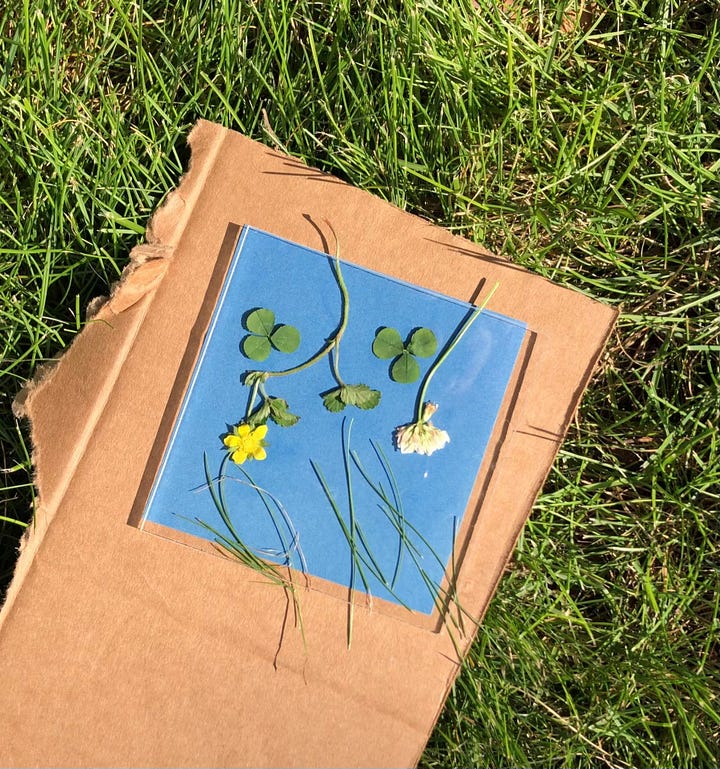 3. What made me curious
How to handle insect infestations the Buddhist way.
I don't subscribe to any particular religion, but embracing many Buddhist teachings on my healing journey these past few years, and several heart-to-hearts with dad and his Buddhist practices, have been energizing my reconnection and intention to self and other beings.
About 6ish months ago, Leo and I decided to do our best to not kill insects in our home. It's not like we always went for the kill when seeing spiders and such, but we somehow deemed ants the excusable bug to smash to death on the kitchen counter. I guess it had something to do with the association of the lack of cleanliness. We do our best to keep a clean home to prevent infestations of mice or roaches (both of which I'm SO happy we don't deal with), but ants still come marching confidently inside whenever the weather warms up.
In the past, we used homemade ant bait poison to bring down the whole colony. But with our newfound anti-bug killing path, we don't know what to do other than keep the kitchen super duper clean at all times. Feelings of frustration arise and I shout, "What the fuck are you looking for? I ate that and left NO crumbs!" I searched for advice on a no-harm solution, which lead me to this set of guidelines and this humorous answer by the Dalai Lama.
I will say that, within just a few days, not cursing at the party ants and using the loving kindness approach has made a tiiiiiny difference. If you're interested in an update in a week, let me know.
4. What helped me heal
Ginger tea.
Ginger has been my family's go-to herbal medicine. We love eating ginger infused in soups, stews, and stir-frys, raw in salads and dressings, and blended up or steeped for drinks. Whenever I begin feeling some sort of inflammation, like a cold or digestive issue, brewing in my body, I brew a strong batch of ginger tea concentrate and drink a splash diluted in some spring water.
Here's what I do:
Blend a nice big handful of fresh organic ginger, skin on, with about 5 cups of water

Transfer the ginger liquid to a small pot and bring to a boil

After 3 minutes, remove from the stove, cover, and let it sit on the counter overnight

Strain the bits and transfer into a glass pitcher or large jar with a lid

To consume: add a generous splash to a glass of water and enjoy!
I usually like adding a little lemon or lime juice or apple cider vinegar. Sometimes a pinch of sea salt or Himalayan salt for that extra boost of Earth medicine loving.
This ginger drink came through for me last week when some last bits of stress, that didn't release from lots of body movements or any of my other methods, disrupted my digestive system. If you've been with me for a while, then you know how much I value a good shit. So, thank you, dear ginger, for being a real one.
5. What I learned
Dr. Zach Bush's 4-minute workout for nitric oxide release.
I've recently been on a Zach Bush binge, since his views on regenerative agriculture align with my perspectives, and his value in creating a fully integrated way of being has been a path that I've been having so much fun exploring for myself.
There are several movements I've been challenging myself to consistently practice. Qi gong, hiking, walking, yoga, and now this simple, low-ish effort anaerobic workout has been thrown into the mix and I really dig it!
This exercise helps to release nitric oxide, which, "…is a molecule made by the human body that feeds your muscles. When you start to exercise and run out of oxygen (you feel your muscles ache), Nitric Oxide is released. As it moves downstream, blood vessels dilate allowing more oxygen and nutrient delivery for muscle growth." This helps to promote muscle building, not just during the movements, but, also, hours and days after the workout. I try doing it 2-3 times a day, in addition to my other movements throughout the day, and my being (mind, body, and soul) has been feeling stronger and stronger.
6. What challenged me
Being away from mom again on her birthday.
It's been so many years since I celebrated mom's debut on this planet with her in person. This particular year's birthday felt heavier on my heart. Instead of ruminating on all the ways life could have been different, I've been focusing my energy, more than ever before, to meet the paths that could lead me back to her sooner than later.
7. What made me laugh
This guideline for vegetables plates in the South.
"We could list things that are not vegetables but are vegetables all day long."
8. What I ate
Mei Lai Wah's pork buns. IYKYK.
And if you don't, pictured above is their baked roast pork bun, but my absolute favorite is the pineapple bun with roast pork. A DIVINE experience and one of my top affordable snacks in Chinatown, NY.
9. What inspired me
Leo taking risks for his own expansion.
After a loooong budding season of remaining stagnant in my journey, I've been unfurling many of my petals in my blossoming process.
Yeah, I know that was a super flowery sentence, but I don't care if you judge me. It's how I truly feel!
The act of creation was, and constantly is, one of the main keys to my liberation. However, taking the risks necessary to provide those creative offerings to others is still a mountain I keep thinking I'm having a hard time climbing. But there is no mountain in front of me. I am the mountain or, as Brianna Wiest wrote, The Mountain is You.
So, after witnessing the experiences Leo was challenging himself with, I started stepping more courageously into pathways toward my own goals and feeling immediate internal shifts. But inspiration without action won't nourish me in the ways I truly need for growth. Small opportunities are making themselves known all around me, and I'm looking forward to whatever experiences I'll have along the way to creating a life of wholeness.
Resources:
I Always Wanted To is a reader-supported publication. To receive new posts and support my work, consider becoming a free or paid subscriber.